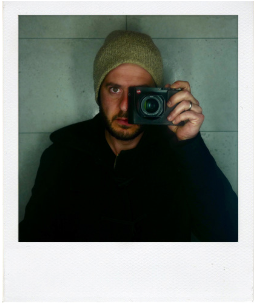 Born in the western suburbs of Melbourne and one of three sons of working class parents, my exposure to the arts was limited. As chance would have it though, growing up, my father had an old Russian film camera lying around and although nobody knew how to use it, it left a lasting memory and so many unanswered questions. The seed was sewn.  

It wasn't until high school that I had a chance to pick up a working camera and it was then that I developed a keen eye for photography (and the darkroom). That love affair was relatively short-lived as I'd lost access to free film and processing facilities when I started university. I didn't study fine arts or photography or anything remotely creative, as a pursuit of these endeavours, 'weren't going to pay the bills'. Photography remained on the periphery. Barely a pastime. And then I started travelling…  

First, short trips backpacking through South-East Asia during the summer breaks and then a long solo trip through parts of Western Europe and overland across most of South America. That's when I realised the power of telling a story through photos. The people. The strangers. The characters. The fraction of a second insight the camera provides into peoples lives when the shutter is released is mesmerising.  

Being an amateur part-time photographer is my sanity check; my time alone to explore, push myself to new boundaries and all-the-while strengthening my ability to confront the everyday and remain a human being.

2019 Faces Behind the Scene - Sydney Road Traders
2017 Victorian Archive Centre - Cat Walk to Side Walk
2016 Victorian Archive Centre - Of Kin and Kind
2014 Malmsbury Mill - Solo Exhibition - 'Wonderers'
2012 PhotoNet Gallery (now Magnet Galleries) - Shortlisted Finalist 2010 Brunswick Street Gallery - Finalist Award
2009 Immersion Therapy Artspace - Fuyu (Winter) Exhibition Featured Photographer 


2017 LFI Leica Master Shot - Featured Photographer
2017 LFI Music Contest III - Runner Up
2017 Shoot the Frame - Portrait Finalist
2016 The Leica Blog Feature Photo Essay
2015 Open House Melbourne - Winner Interiors People Prize
2014 National Geographic Your Shot Daily Dozen Featured Photo